Until recently I hadn't tried baked oats, I wasn't even a big fan of oats themselves! That was until I came across a baked oatmeal creation
@PB Fingers
. Inspired by the posts and recipes of
Chocolate Covered Katie
I experimented with her recipe for
baked oats for one
and created a super healthy (bar the cocoa though I appreciate the
health benefits!
) single serving Chocolate and Raspberry Baked Oats Cake.
Chocolate and Raspberry Baked Oats  
Print this easy peasy recipe

Ingredients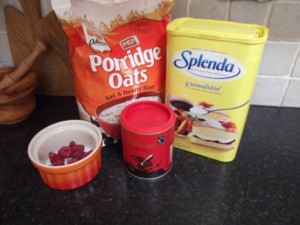 40g (1/2 cup) rolled oats
90ml (1/3 cup) soy milk
10g (1 tbsp) unsweetened cocoa powder
6 frozen raspberries
1 tsp Splenda (or Stevia)
Method
Preheat the oven to 220C (400F)
Mix oats, cocoa powder and Splenda in bowl.
Transfer mixture to ramekin dish (small oven proof container)
Pour in the milk
Bake in the preheated oven for 25minutes.
Allow to cool for 15 minutes and remove oat cake from the dish.
Place the oat cake upside down under a grill (broiler) for 2-3 minutes until crisp and repeat on the top side.
Eat straight away, keep chilled in the fridge, or freeze for a rainy day!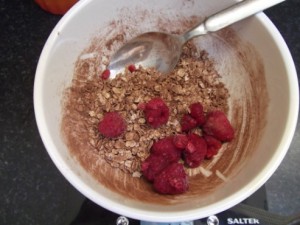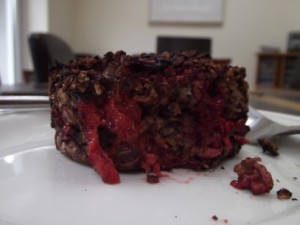 Chocolate oaty raspberry heaven!