I have peach filled morning ahead of me, starting with my peach and raspberry smoothie at 7am!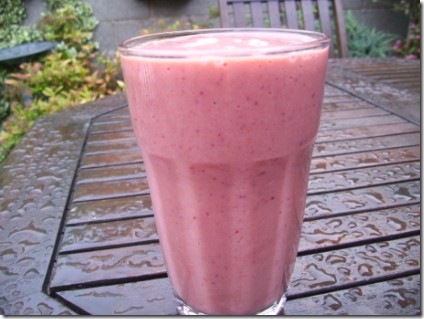 Yes I went outside to take this photo, I was letting little magic and thankfully the rain had stopped.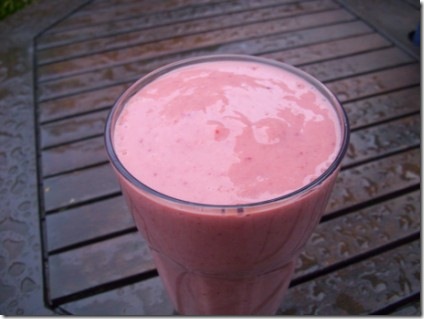 Super thick and creamy.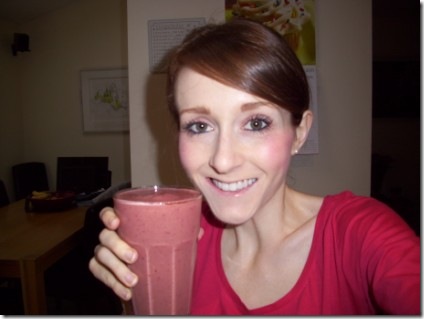 And a pink outfit to go with it! My pink filled bowl of chocolaty oats yesterdayreignited my love for all things bright and pink.
My second round of peaches will come in the form of a peach and ginger oat cake invention I put together last night… which means you get a preview and the recipe earlier than usual.
A recipe without a photo is like salt without pepper…they just don't work for me! It's the pictures that entice me to read the recipes, unless the word "fig" or "cherry" is in the title, but they're just food fav exceptions!
Super excited the weekend has arrived! The rude health show is this weekend and I have plans to take it all in on Sunday. LOTS of photos and notes will be taken and goodies of the health and food kind purchased.
Needless to say it being Friday my workout was fuelled full of energy this morning. I went for 2 Pilates 10 minute workouts, flexibility to start me off, followed by abs. I then opted for the Women's Health Workout for the Pear Shaped Body(I wish I had time for a bit of a jog this morning to make the most of this energy surge!)
Pretty in Pink Peach and Raspberry Smoothie
Print this easy peasy recipe
Servings – 1
Preparation Time – 5 – 10 minutes
Ingredients
3 tbsp frozen raspberries
2 large (3 small) fresh peaches
1 tsp honey
80g (1/3 cup) soy yoghurt
80ml (1/3 cup) soy milk
1 tsp vanilla extract
Cocoa powder for dusting (optional)
Directions
Chop peaches in to chunks and place in a bowl/jug with your raspberries and blend to a smooth puree using your hand blender (if you have a smoothie make just throw everything in together!)
Add puree to all other ingredients and blend until smooth.
A little coating of cocoa powder on top gives it just a hint of chocolaty flavour.
Tip – I make the puree the night before and blend with all other ingredients in the morning to save on time!
Between having overnight oats, Quinoa, millet and instant buckwheat bakes for breakfast, my oatcakes have been a bit neglected. With my new gingerin hand had yearning for something akin to gingerbread for my mid morning meal.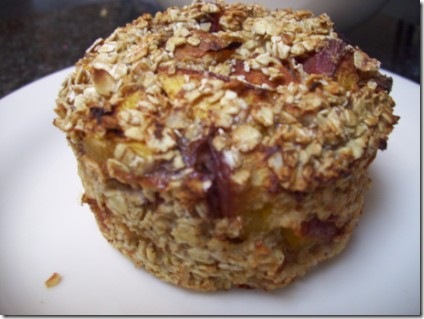 Peach and ginger, a perfect combination!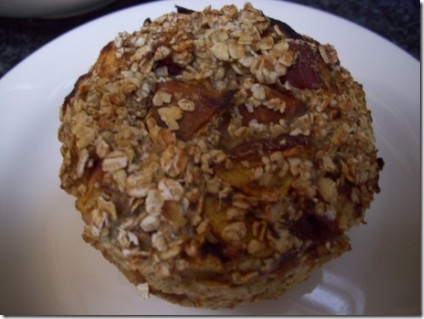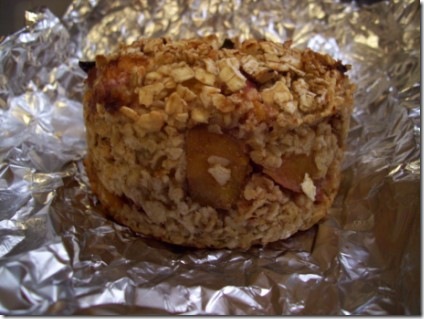 And it's encased in foil ready for my mid morning snack (that's if it doesn't get eaten on the way in to work!)
Peach and Ginger Baked Oat Cake
Print this easy peasy recipe
Servings – 1
Preparation Time – 5 minutes
Cooking Time – 30 – 35 minutes
Ingredients
40g (1/2 cup) rolled oats
125ml (1/2 cup) soy milk
1 tsp ginger
¼ tsp nutmeg
½ tsp cinnamon
½ tbsp flaked almonds
1 small peach diced
1 tsp honey
½ small peach sliced (for on top decoration – optional!)
Directions
Preheat oven to 180C (350F)
Mix together oats, ginger, nutmeg, cinnamon, honey. almonds and diced peach
Place mixture in a ramekin/oven prove single serving dish and pour over soy milk
Baked oats in the oven for 25 minutes
Eat straight away, or allow to cool, remove from dish and toast top and bottom under a preheated grill (broiler) for 2 minutes each side
Place your peach slices on top for extra peachiness!
Tip – stored baked oats in the fridge and have as handy grab and go breakfast or snack for work. Enjoy cold or reheat oat bake in the microwave and devour with a side of ginger tea!
Happy Friday!!!!!