substantial lunch
I was craving something simple and light for dinner and having missed out on my greens today eating a whole head of broccoli seemed like the obvious choice!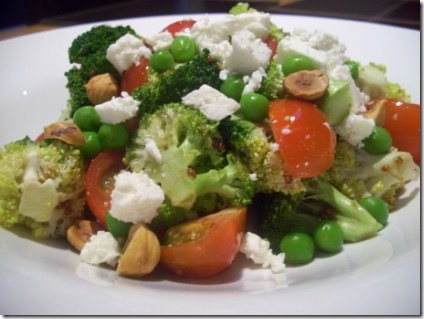 After my Apple Cinnamon Pie Overnight Oats recreation this morning I decided to continue the trend with tonight's dinner. I was less than happy with my previous Broccoli, Hazelnut and Feta Salad post. Although it tasted amazing the pictures were abominable.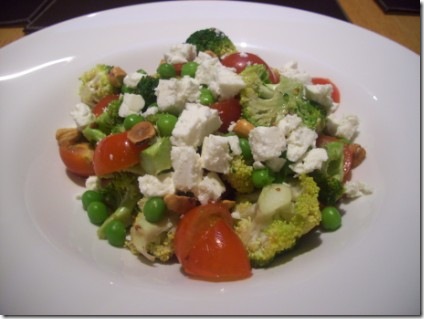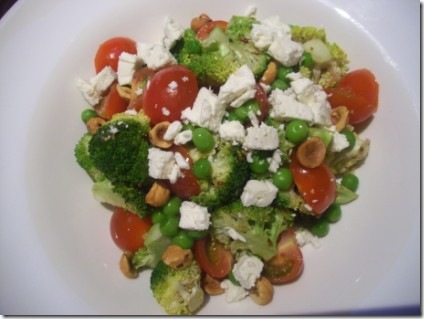 With a few helpful tips from Katie at Chocolate Covered Katie my photography, if you can even call it photography, is started to improve somewhat. I will continue to blame the camera and lack of natural light available, but I'm happy enough once my pictures prove to be a little inviting.
I still aspire to someday have the skills, knowledge and experience to create pictures that rival those of the sensation shots taken by Sonia, the Healthy Foodie, Angela, at Oh she glows and Kath, of Kath Eats Real Food! Those ladies are my biggest inspirations.
Having spent all of my time a considerable amount of time in the kitchen over the weekend, very enjoyable time, I was more than happy to sit back and relax tonight with my evening meal assembled in less than 5 minutes.
Broccoli, Feta, Cherry Tomato and Toasted Hazelnut Salad; my take on an Avoca classic.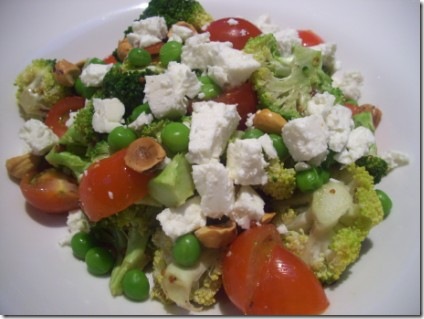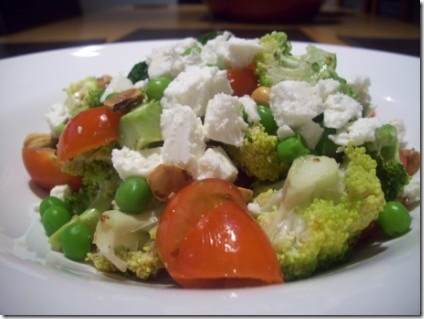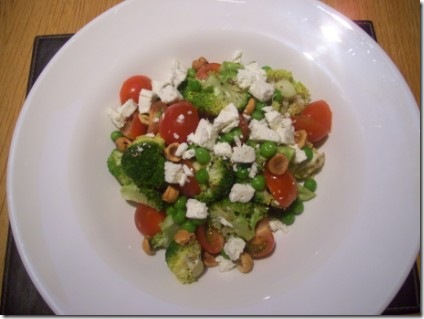 I made a few changes to the classic recipe, adding in some peas and drizzling with my favourite of all dressings, healthified honey mustard.
Having opted out of dessert the last couple of nights with my extra large meals for two one, tonight my sweet tooth had a yearning for one of the usual suspects…. An Alpro Soya Dessert Pot!
Chocolaty goodness, never fails to satisfy in a craving!
I stuck the pot in the freezer when I came home from work before I headed out in the not so miserable but extremely changeable weather for my walk. By the time dessert time came around it was perfectly chilled and slightly thickened just the way I like em!
Satisfied! Now it's time for Kitchen Hero with Donal Skehan; perfect Monday night foodie viewing.
What's your favourite "meal in minutes"?
I really liked the look of Kath's Eggplant Curry last night; it's a quick throw together meal I will definitely have to give a try!
Broccoli, Feta, Cherry Tomato and Toasted Hazelnut Salad
Servings – 1
Preparation Time – 5 minutes
Cooking Time – 10 minutes (only if you haven't yet toasted your hazelnuts!)
Ingredients
1 small head of broccoli cut up in to mouthful size florets
6-8 cherry tomatoes
30g (1oz) Feta Cheese
1 tbsp toasted hazelnuts
3 tbsp frozen peas
1 tbsp balsamic vinegar
1 tsp honey
1 tsp Dijon mustard
Directions
Place frozen peas in boiling water for 5 minutes
Blanch broccoli florets in the same boiling water for 2 minutes (you can eat it raw but blanching draws out the bright green colour!)
Mix together balsamic, mustard and honey and set aside.
Slice cherry tomatoes in half, mix with broccoli and peas
If you are yet to toast your hazelnuts, place in a preheated oven at 180C (350F) for 7-10 minutes. Remove the nuts, place in tea towel, fold over to make a parcel and rub together to remove the skins.
Toss your hazelnuts through the broccoli salad and drizzle with honey mustard dressing.
Enjoy in a bowl with a solitary fork (the best meals are those which don't necessitate a knife if you ask me!)
After my