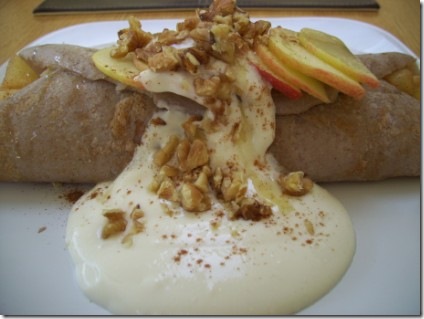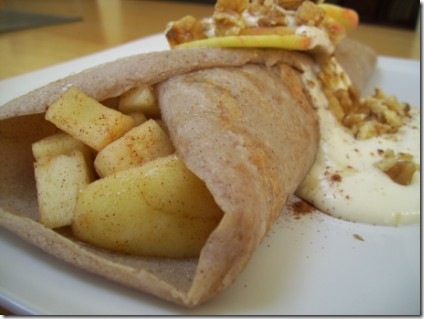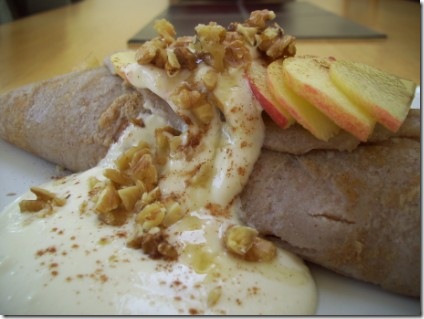 Ok so this morning's breakfast isn't my number one. But it's a close second!
Luxurious indulgent breakfasts are usually reserved for the weekend the only reason being I don't have the time during the week and 9 times out of 10 I split breakfast into two mini meals, an early morning smoothie and something oat/muffin based mid morning.
After the long weekend in Barcelona which was decidedly lacking in exciting breakfasts my two extra mid week days off work couldn't go by without some extravagant morning meals. Yesterdays Blueberry Cinnamon Crunch Overnight Oats Parfait went down a treat and having satisfied my oat craving this morning it was time to appease my pancake pangs.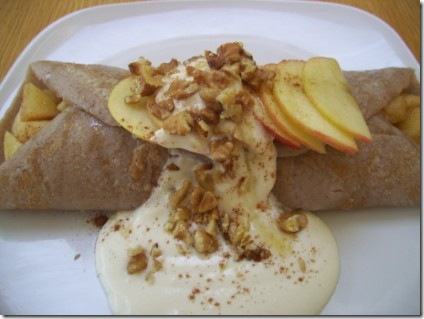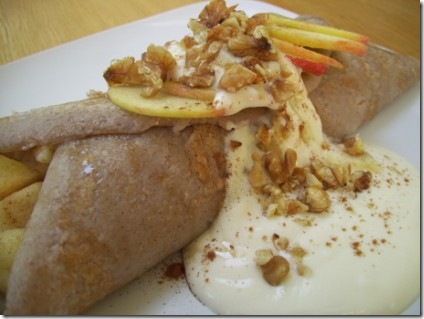 My first Buckwheat Pancake was inspired by Sonia's recipe which I just had to give a go this morning.  I made a few very slight changes opting for soy yoghurt rather than cottage cheese, and adapting the recipe to serve one.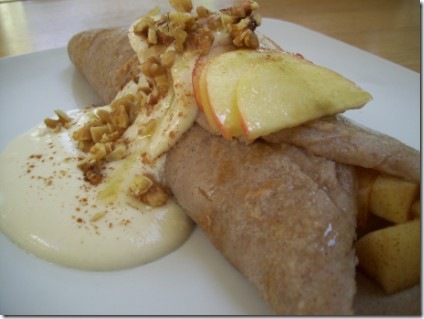 Not quite as picture perfect as Sonia's masterpiece but it was delicious!
Top Five Six Breakfasts (To date, this coming weekend might mean a few new additions!)
Vegan Apple Cinnamon Buckwheat Pancake with Toasted Walnuts
Cherry Bakewell Overnight Oats (I couldn't leave this one out!)
What's your favourite breakfast treat?
Any buckwheat pancake variation suggestions?
Vegan Apple Cinnamon Buckwheat Pancake
Servings – 1
Preparation Time – 10 minutes
Cooking Time – 5 minutes
Ingredients
Pancake
40g (1/3 cup) Wholegrain Buckwheat Flour
165ml (2/3 cup) water
1 tsp cinnamon
1/4 tsp baking powder
Pinch of salt
Filling & Topping
2 apples peeled and diced (reserve a few slices for the topping)
2 tsp honey
1/2 tsp cinnamon
1/2 tbsp toasted walnuts
2 tbsp plain soy yoghurt
Extra honey to drizzle
Directions
Mix flour, cinnamon, baking powder and salt and add water slowly to the mixture, stirring continuously to prevent any lumps forming.
Place pancake mixture in the fridge for 30minutes.
Before you make your pancake place apples in the microwave with cinnamon and honey for 1 1/2  -2 minutes (alternatively you can cook them over a medium heat in a pot); you want them to be nice and soft.
Now it's time to cook your pancake. Spray a wide bottomed pan with a little light cooking oil and pour in batter (if using a smaller pan make two pancakes if you want to keep them thin). When the edges are firm and the bottom is brown give it a flip. It will only need a couple of minutes on either side.
Place pancake flat on a plate once cooked, line cooked apples up in the middle, fold over and seal with a soy yoghurt and some reserved apple slices.
Sprinkle over toasted walnuts and drizzle with honey.
Buckwheat Breakfast Heaven.
Apple Cinnamon Buckwheat Pancake with Toasted Walnuts!