Having begun sharing a bit more about my story a little while back, my relationship with food and my eating disordered past I've had a few different questions put to me, most of which have tended to begin with "do you mind if I ask…".  Of course I don't mind, I'm sharing my story in the hope that it will touch other people, other sufferers and help change the way that eating disorders and sufferers are viewed by society and themselves.
There is a lot of shame associated with eating disorders, the inevitable lying whether to yourself, others or both, leaves you with a feeling of guilt which is converted in a negative belief about oneself; the activities driven by eating disorders are shocking to most and elicit a severe degree of shame upon the sufferer.
Although I opened up pretty early on about my difficulties when it came to food, the "anorexic" and subsequent "bulimic" within became stronger and eventually I myself became disillusioned as to to what was truth or falsified. Well in to the first steps of recovery, the hardest thing I found to come to terms with was the guilt and overcoming the shame, changing the way I felt about myself. In order to move forward I had to admit, not only to myself but to others both in group settings and amongst my family and friends the lies that I told along the way, the initial reassurance that I wasn't in fact a bad person because of it was an immediate relief, like a the heaviest weight in the world lifted from my shoulders.
I'm not going to lie, when I think back even now I do cringe slightly at the way I behaved, there is a glimmer of guilt, but the shame has now been lifted. Shame is like the conversion of guilt, associated with an action or behaviour, in to a truth and belief about ones self. Rather than just doing something bad, in my mind I had become a bad person.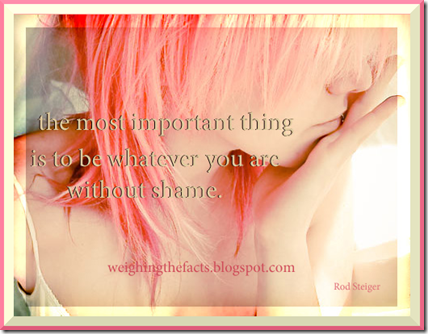 Some of the lies I told to myself and others included:
That I'd finished a meal or portion of food when at least half of it was in the bin, bag or even my pocket
I wanted to get better
I'd had a meal elsewhere
I'd drink copious amounts of water before being weighed at home or in the hospital in order to counteract any weight loss
I didn't know where the packet of biscuits/half of bread/box of cereal etc…had gone to and that I certainly had nothing to do with eating them
I'd been out with friends when in fact I had been in a public toilet making myself sick for three hours straight
I was going to meet friends, when the only real intention was a stop off at several shops to pick up an enormous amount of food to consume as quickly as humanly possible
I couldn't go to work/college because I felt sick knowing that the feeling was inevitably around the corner once I'd had my binge
Hiding and even stealing food on a regular basis
Every binge was the last binge…
Tomorrow I would try harder with recovery
In all honesty I can't even remember half of the lies I told, there were a hell of a lot of them, all used to hide behaviours, the fact that I was struggling and to prevent anyone taking my beloved eating disorder from me. When I was binging I was more prone to breaking down, pleading with god, the world, my parents, anyone, to help me to be strong and fight the urge.
In the depths of anorexia I somehow managed to maintain some degree of normality and thereafter during the many years of maintenance and strict control my life, person and overall being were convincingly average. Hiding the fact that I was still struggling was relatively easy which only served to prevent any further progress.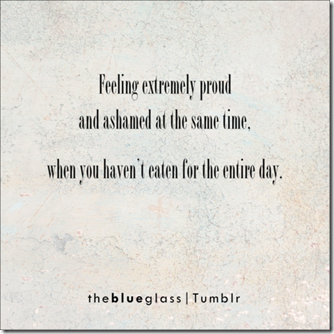 For a control freak by nature suffering from bulimia couldn't have been more conflicting and all round unnerving. I felt like I had lost my mind, and it continued on and off for about a year until one day I just woke up stronger and ready to fight; my stomach, body, mind, heart, spirit…they had all just had enough, it was live or die sort of moment. Of course there were occasional relapses along the way but with each backward step I found I took another few forward and getting over the guilt associated with the relapse took a lesser amount of time after each instance.
So much learning took place throughout my ups and downs, all of which I now look back upon and rather than regret, appreciate the fact that I have made it through the other side and am now a much more complete person because of it.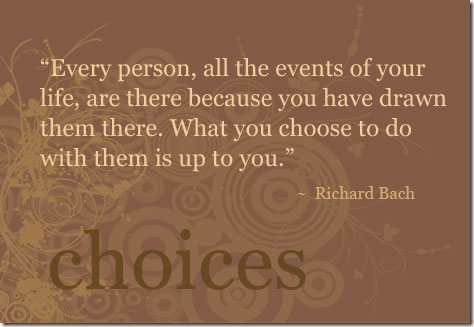 In order to move towards recovery I needed to learn to let go of the shame, re-educating my mind and changing my beliefs; indulging in it only served to fuel my eating disorders, completely self deprecating and leaving me feeling nothing less than deficient in every respect. Trapped within the bubble of the eating disorder it was easier to stay hidden away from the world, not showing anything but a falsified version of a complete person. I had to learn to live again, to just be rather than sitting in a room surrounded by people, talking and listening yet not taking anything in…I had to let go!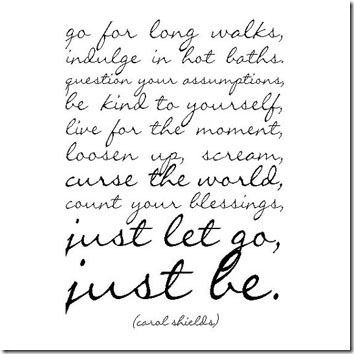 On a final note, for now, I found I found this quote very applicable…