Fresh crunchy creamy lightly sweet, savoury and salty, loaded with greens and laced with homemade gravlax. A few flax crackers crumbled over the top add a beautiful toasted seeded crunch.
With a whole load of homemade gravlax on hand I figured I should put some of it to blog post worthy/recipe use. I happily devoured the rest of it with sides of scrambled eggs and avocado, nibbling on bits here on there during the day, the perfect savoury high protein fat rich snack! Truly satisfying!
Cold food is were its at the moment, namely salads, cold cuts of meat, canned fish and leftovers straight from the fridge.
I've been craving a bit more fruit in line with the temperatures having increased. Cold crisp apples, the occasional zingy grapefruit and a few frozen grapes of an evening post workout. We officially have a heat wave..though granted it is only a heat wave according to Irish standards! 74 ish Fahrenheit (23 Celsius) has us all melting. Irish houses and my pale skinned body is far from made for the sunshine or the heat; a swimming pool and a little air conditioning wouldn't go a miss!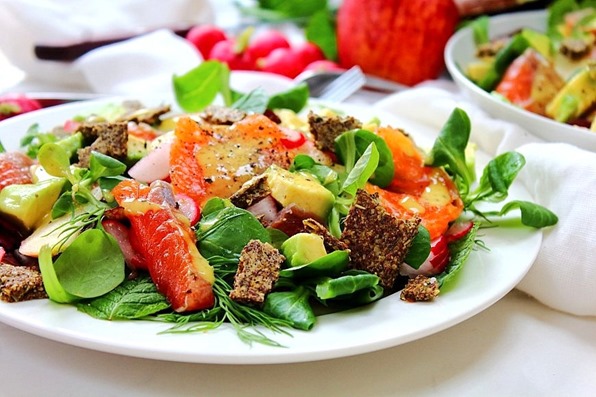 I digress…and don't mean to be moaning about the weather, it is truly awesome to have some sunshine. Life is just so much brighter and there is nothing more body loving than a little natural Vitamin D, the suns rays heating me right through to my core. Makes up for the chili Winter months within minutes!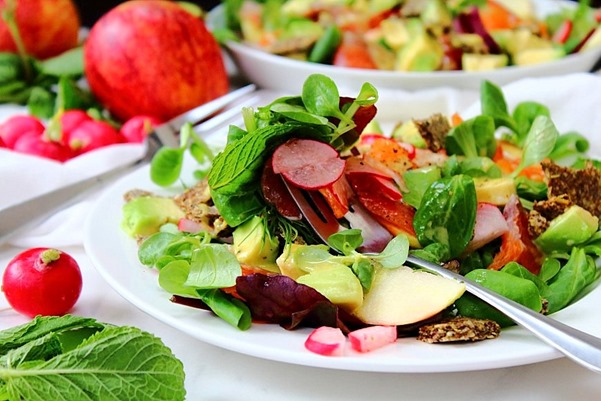 So salads…this no doubt will be the first of many to come over the next few weeks. So incredibly simple and hassle free to literally through together. Heaps of flavour, a wonderful array of textures and wonderfully satisfying. An all round crowd pleasing salad. I did consider adding some fennel just to see if I could find a new in road for it to possibly win me over but decided not to take the risk!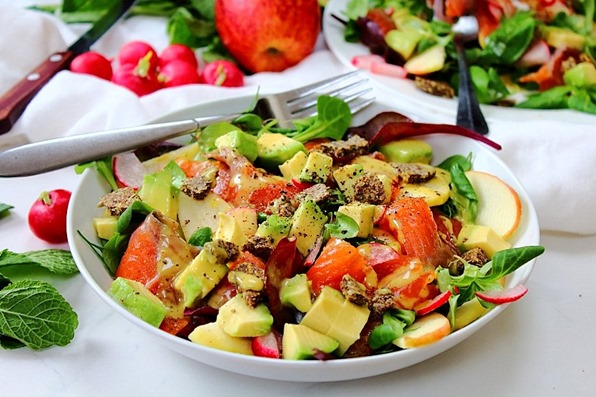 The sweet crunchy apple paired with the earthy radish, the fresh subtle greens and buttery creamy avocado works wonderfully with the gravlax. Naked salads don't cut it around here these days so I whisked up a little honey and mustard dressing to drizzle over the top. No need to drown the salad, just tie it all together with a little creaminess, a hint of kick and subtle hit of sugar!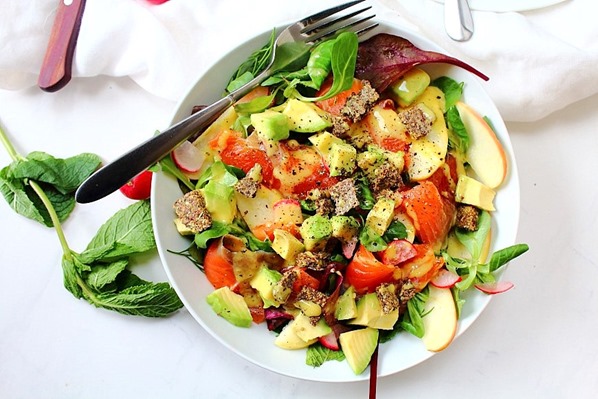 What's your favourite summer salad? This zucchini pesto noodle salad with heirloom tomatoes and peach is one of my favourites!
Summer Gravlax Salad
Prep Time: 5 minutes
Keywords: raw appetizer salad entree side gluten-free low-sodium paleo soy-free apple salmon
Ingredients (Serves 2)
200g salmon gravlax or cold smoked salmon, thinly sliced
1 medium ripe avocado diced
1 small Pink Lady apple or crisp apple of choice
2 large handfuls of lambs lettuce or watercress
4-6 small radishes thinly sliced
1 heaped tbsp fresh mint roughly torn
1 heaped tbsp fresh dill roughly torn
4- 6 flax crackers roughly chopped or crumbled
Dressing
2 tbsp extra virgin cold pressed olive oil
1 tbsp Dijon mustard
1/2 tbsp raw honey
1 tbsp lemon juice
1 tsp apple cider vinegar
Pink Himilayan Rock Salt and Black Pepper to taste
Instructions
Whisk together all dressing ingredients or blitz in a mini food processor and set to one side.
Layer up salad ingredients, reserving the crackers for crumbling over the top.
Drizzle over dressing. Toss as you eat so that everything mingles!
{ 0 comments }