So good I've made it four times over…which isn't something I do all that often! Leftover shredded chicken served a big ass bowl of buffalo chili sauce, topped off with a dollop of cashew cream. Heavenly comfort food!
I love me a good deep bowl of steamy chili…actually I prefer it served at room temperature but that's just me!
Chili is one of the ultimate warming comfort foods. A must for these days. I've made this one officially four times over. Three because I decided it was time to share it and four due to the camera incident which I'm still a little tender about.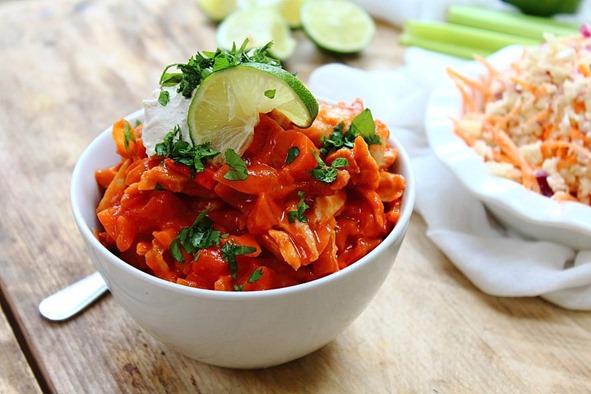 It's so incredibly easy to through together. No slow cooker required or massive amount of time sitting on the hob. You can make the sauce in advance and simply add your cooked chicken before heating through and serving if you prefer. I nearly always make chili the day before I plan to eat it. Let it cool and then serve it up at room temperature. The fiery kick still provides you with the warmth to take the chill out of your bones but allows me to eat it at speed without burning my tongue.
It also gives the sauce a chance to thicken and the flavours to develop…that said it's pretty darn awesome straight from the pan because of course taste testing is pure necessity…I can still remember a time when I used to cook and my fear of food wouldn't allow me to taste anything until it was a sit down meal time. The result was a lot of bland unbalanced somewhat flavourless or overly pungent food.
A creamy crunch fresh slaw was on the agenda from the get go. Just as irresistible as the chili…I had almost half of it eaten before "mealtime" or as I prefer to call it "feeding-time" came around a.k.a whenever true hunger calls!
I paleo mayo based ranch dressing was a beautiful way to bring the trio of colours together. Just a hint of a kick to compliment the chili, creamy enough to balance out the heat. Get the recipe for the ranch slaw here!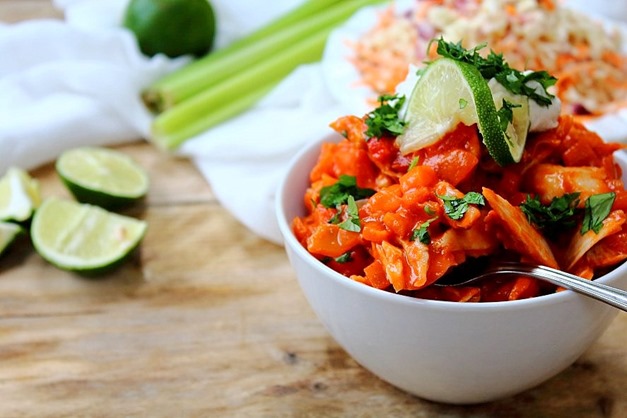 In the past when I thought "chili" I would immediately have thought ground beef and beans…buffalo chicken remains at the forefront of my mind for the time being, here's to making round 5! I reckon it would be even more awesome with some leftover chicken wing meat through the mix or if you don't have any cooked meat looking for a home simply cook up your chicken part of choice (though dark meat is preferable in terms of flavour!) to add to the mighty sauce.
What's your favourite alternative chili recipe?
Buffalo Chicken Chili
Prep Time: 5 minutes
Cook Time: 30 minutes
Keywords: saute entree soup/stew gluten-free grain free low-carb paleo soy-free cayenne pepper chicken chicken thighs
Ingredients (Serves 1)
2 leftover cooked chicken thighs (approx. 7oz/200g cooked meat)
1 tbsp ghee (clarified butter)
1/4 tsp garlic powder
1 small carrot peeled and diced
1/2 a medium red bell pepper diced
1/4 medium onion finely diced
1/2 tbsp tomato puree
180ml (3/4 cup) passata
1/4 cup (60ml) Franks Hot Sauce
1/4 cup (60ml) full fat coconut milk
1/8 tsp salt and black pepper to taste
Lime and Coriander to garnish
Instructions
Shred cooked chicken and set to one side in the fridge.
Melt ghee in a pan over a medium heat. Saute onion for 5 minutes. Add in pepper and carrot and cook for 5 minutes more.
Mix together tomato paste, passata, garlic powder, and hot sauce. Add to the pan with vegetables. Bring to the boil and simmer for 15 minutes. Stir in coconut milk, add in chicken; heat through and continue to reduce down for 10 minutes more.
Serve topped with cashew cream and garnish with lime and fresh coriander.
Cauliflower ranch slaw makes for an amazing side!
{ 0 comments }