Deeply rich indulgent chocolate truffle tart encased in a coconut nutty crust topped off with a sweet white chocolate drizzle.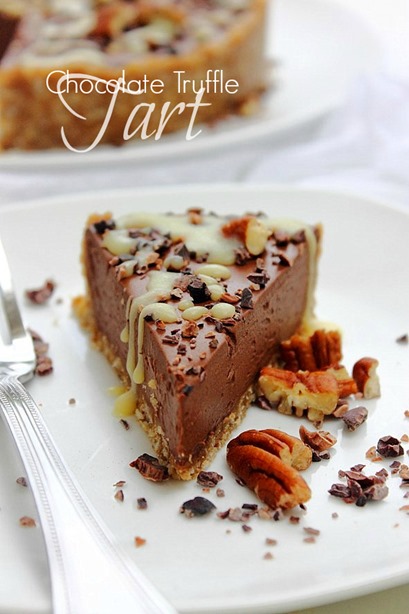 It feels like a lifetime ago that I made this! The slice I had stashed in the freezer for a rainy day has long been retrieved, each and every morsel savoured until the last bite. The kind of chocolate tart you eat with a teaspoon, nibbling and letting it linger on the tongue.
Creamy, rich…a chocolate lovers dream. It's a take on a classic raw chocolate ganache tart, much healthier, refined sugar free, and possible a little more fudgy. I say possibly because I actually don't think I've ever tried a "classic" one. If I have it's long enough for me to forget what it tasted like.
I'm a HUGE chocolate dessert fan. Apart from ice cream, chocolate in most forms always wins. My previous chocolate fudge tart is equally as indulgent if a little heavier with a more unusual less "classic" ingredient list.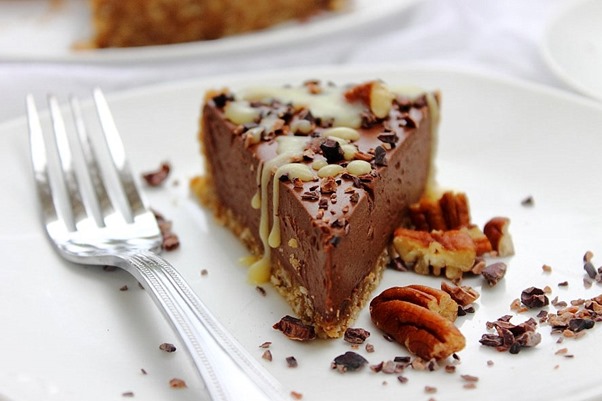 I kept my white chocolate cheesecake in mind when making this one. I wanted the the true distinct flavour of the raw cacao butter to shine through…of course it was going to mingle just beautifully with the raw cacao powder to make for an unsweetened chocolate base with no unnecessarily added ingredients.
As much as I love my white chocolate truffle "cheesecake"…this chocolate variation definitely trumps it! Not just for it's intense chocolate dreaminess but it's a little silkier, more supple on the palate and much easier to put together!
This is only for the fact that I don't own a high speed blender and have to go in to work every time I want to blend my soaked cashews to a creamy paste…just for the cashew cream it's already a weekly habit!
All you need is a food processor for this one. Granted it's a little more pricey but oh so worth it. I am in love with raw cacao butter. One of my favourite sweet treat ingredients. Seeing as this tart was inspired by Sonia's Chocolate Truffle Cake I decided to go with a last minute white chocolate drizzle. It just looked so pretty in her pictures…totally drawn in!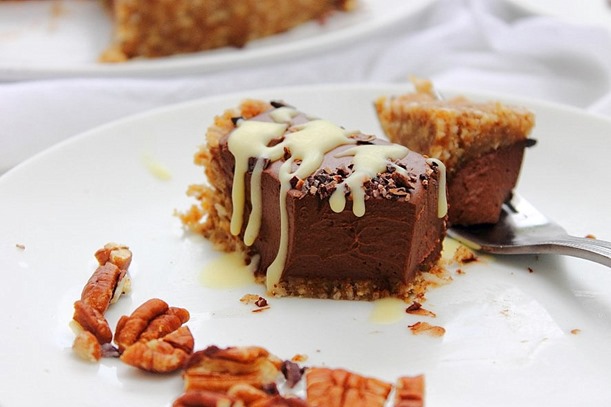 The slightly more sweet white chocolate, bitter cacao nibs and mellow yet deep chocolate filling…the base providing just enough of a bite as well as heaps of nutty coconut flavour. Another magical medley…I wish I had of managed to hold on to my rainy day slice a little longer! It freezes perfectly. I thawed mine on the counter top within about an hour but it will just depend on the room temperature. You could also thaw it in the fridge overnight.
After a few days in the fridge the flavour strengthens, the texture becomes a little more solid which I actually prefer. That's if you manage to hold to for that long!
What's your favourite chocolate dessert/treat? Any special recipes you hold close?
Chocolate Truffle Tart
Prep Time: 40 minutes + Overnight
Keywords: blender raw dessert gluten-free low-carb low-sodium paleo soy-free sugar-free cacao butter cacao nibs coconut milk dates
Ingredients (Serves 8 – 10)
Base
50g (1/2 cup) walnuts
50g (1/2 cup) pecans
30g (1/4 cup) coconut flour
40g (1/2 cup) desiccated coconut
60g (1/3 cup) Medjool dates
2 tbsp (28g) coconut oil melted
Filling
1 can (400ml) full fat coconut milk
165g (3/4 cup) raw cacao butter
60g (1/2 cup + 1 tbsp) raw cacao powder
90g (1/2 cup) Medjool dates
Seeds from one whole vanilla pod or 1 tsp pure vanilla extract
1 tbsp (14g) coconut oil or ghee melted
Topping
1 tbsp cacao nibs finely chopped
28g (2 tbsp) raw cacao butter
1 tbsp (20g) raw honey
1 tbsp (14g) coconut butter
Pecan nuts to garnish
Instructions
For the Base
Blend dates to a smooth paste in your food processor.
Remove and set to one side.
Blend walnuts, coconut, pecans and coconut flour to a fine crumb. Add in date paste and process to combine.
Finally add in coconut oil. Once combines press mixture in a lined and greased loose bottom 8 inch cake or tart tin. It needs to be about 2 inches deep!
Press the tart shell across the base and up the sides. it doesn't have to come up right the way but most of the way. A few jagged edges actually looks nice!
Place in the fridge while you make the filling.
For the filling
Place cacao butter and coconut oil in a heat safe bowl or jug. Place in a larger bowl or jug filled with boiling water. Leave to melt slowly.
Blend together coconut milk and dates in your food processor until virtually no lumps remain.
Add in melted cacao butter and coconut oil. Combine and sift in cacao powder, add in vanilla seeds or extract and process until smooth. Just a minute or two.
Pour in to prepared tart shell and return to the fridge to set overnight; it needs at least 6 hours! If you give it a full 24 hours it will be perfectly firm and easier to slice.
Remove tart from the tin and lay on a large serving plate.
Sprinkle with cacao nibs, garnish with pecans…and get ready to drizzle!
Melt cacao butter and coconut butter using the same method as for the filling or in the microwave in 20 second increments. Whisk in honey.
Drizzle over the tart, return to the fridge for a further 15 minutes before slicing. Store in the fridge in a seal tight container for up to one week or in the freezer for up to one month.
{ 8 comments }