Coffee infused nut bars with just a hint of raw cacao topped with a due of roasted hazelnut butters, one vanilla, one chocolate, heaven in a bite!
The overriding purpose of the post…to share this incredible new bar recipe that I created for my number one customer at the weekend! The kind of customer that loves to try new things facilitating my experimentation in the kitchen and reaping when the rewards when I nail it!
These bars of course adapted from my previous power bars and matcha nutola bars…this version made all the more appealing and a little bit more luxurious with just hint of cacao, a little more coffee and a slightly more indulgent homemade hazelnut butter swirled top layer. Think super healthy icing or your favourite "granola" bar spread with a generous amount of nut butter. A match made in heaven!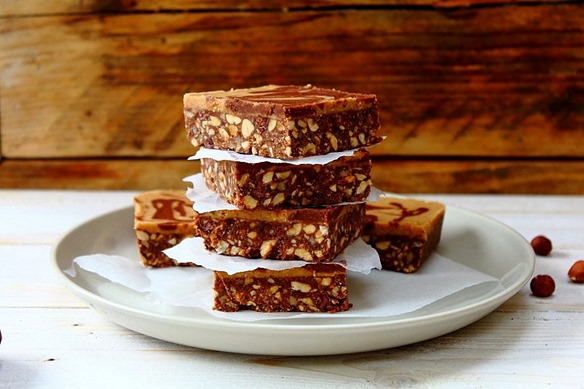 As simple at the predecessors to make, just a little more time consuming if you don't already have your nut butter whizzed up. I highly recommend just making a mighty jar of hazelnut butter, enough to make the bars and to fuel some additional spreading, snacking and dunking for the week ahead.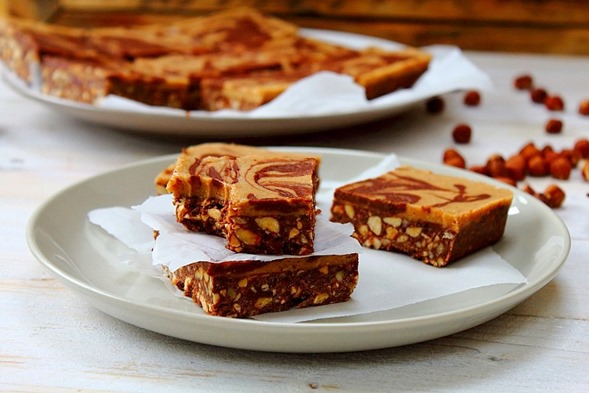 Oh and don't forget there is a nut free school policy friendly version up and ready for you to throw together at your earliest convenience!!! A little more hunky and chunky, stunning in their own right.
And then there was the rant…
So I mentioned a few weeks back that I was making some dietary changes…it seems I'm all about change these days. Something I avoided for years I'm now embracing like it's nobodies business! So why share it at all?! Well I know from reading other blogs myself (Paleomg has been a major inspiration and support over the past few weeks having been through something similar herself in terms of "changes"), how important it can be to share your story so that others in a similar position can find the courage to move forward and make changes themselves.
I've cut back on EXERCISE in a MASSIVE way! Until I'd cut back and cemented the changes I was a little bit anxious about divulging my thoughts. I didn't want to feel like I was being held accountable, it all had to come from within in order for it to be sustainable. So…admittedly over the past 6-8 months exercise and me have had a funny and slightly extremist relationship. I was totally over doing it, unwilling to admit it. I thought I was superwoman and in a sense felt a little superior spending 3 hours+ a day in the gym. Yes it sounds crazy to me now too.
I was torturing my body. Cardio, then weights, then back in the evening for a mix of both or just a series of metabolic conditioning style workouts. I was truly exhausted, not giving my body any time to recover. I felt a little trapped. My body had surely become accustomed to "x" amount of activity, surely if I stopped or cut back I'd have to subsequently cut back on my food intake to compensate?! I decided to make a break for it.
(Little break for another mocha bar shot!)
From 6 spinning classes a week, to 4/5 short intense 15/20 minute cardio interval sessions, coupled with 45 minute focused weight training. I'm going to the gym ONCE a day and I'm only training 5 out of 7 days as opposed to 6. I had always been taking a full rest day but by the time I got to day 7 my body was so exhausted I could have done with 24 hours to just lie in bed. I can only assume my cortisol levels were raging!
Over the past 4 weeks I've seen my energy levels improve, my digestion, sleep, and training has become truly enjoyable again. It had started to become a chore, it had control over me and it most definitely had to be addressed. Having been there done that with food in the past I wholeheartedly promised myself that I would keep that relationship strong, no changes to my food intake. My body needs it's fuel and if anything it's just become more focused and even more nutrient rich with a focus on building my strength as opposed to just getting me through the next intense workout. It never ceases to amaze me how adaptive the body can be.
I'll be the first to admit I don't agree with the scales as a measurement, no more than I agree with calorie counting as a means to control ones food intake or manage their weight. That said I did weight myself a month ago for pig iron and one month later with all the changes…no difference. My stomach is definitely flatter, bloating is has pretty much ceased, and all over I just feel less drained and stressed. I've also got heaps more free time of an evening, going to the gym twice a day had really started to eat in to my daylight hours!
It's not my job to train like a demon, I want to train to feel energised, fit, healthy, look toned (yes I'm ok with admitting that it's partially for vanities sake, I am human!). I was literally wasting my time, pedalling repeatedly albeit with intervals involved, but heavily overtraining my legs with the spinning classes, and not giving my body a chance to heal, repair and grow. I'm just glad I finally found the courage to take the mighty leap back when I did before I did irreparable damage to both my physical health.
Side note….the bars are epic, do yourself and whip up a batch!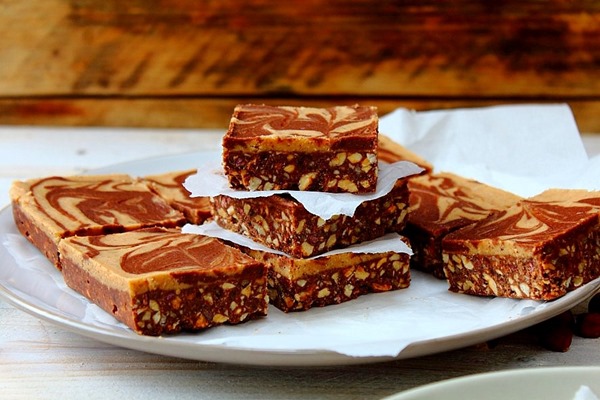 Too much information? Sounding a little over dramatised?! It's how I feel, my thoughts, leave em or take em!
Mocha Nut Bars
Prep Time: 30 minutes
Keywords: blender roast snack dessert gluten-free grain free paleo soy-free vegetarian vegan coconut oil cacao butter cacao nibs hazelnuts
Ingredients (12 large squares)
Hazelnut Butter
For the Bars
For the Topping
Instructions
For the nut butter
Dry roast nuts in a preheated oven at 180C (350F) for 15 minutes and allow to cool before making the bars! Skin hazelnuts by placing them in a clean tea towel and rubbing vigorously.
Blend hazelnuts in your food processor for 5 -10 minutes until truly smooth and incredibly drippy! Add honey or powdered stevia along with vanilla extract. Set to one side.
For the bars
Melt cacao butter and coconut in a bain marie or in the microwave in 30 second intervals!
Place nuts in to a food processor and pulse 4 – 5 times until coarsely chopped.
Remove and blend together dates, melted cacao butter, coconut oil and hazelnut butter. Whizz in espresso, cacao powder, vanilla and coffee extract. Blend until smooth.
Add nuts, cacao nibs and ground flax to a bowl.
Pour wet green mix over the dry, stir well to combine. Line a 5 * 9 inch or 8 * 8 inch tray with parchment paper. Pour mixture in to the dish and spread evenly using the back of a spoon.
Place in the fridge to set for a couple of hours or overnight; speed up the processor by placing them in the freezer.
Blend together nut butter with coconut oil. Remove just over half of the mixture and pour over your slab of bars. Blend the remainder with cacao powder.
Spoon dollops of the chocolate hazelnut butter over the plain vanilla version. It should be incredibly runny at this point. Using a butter knife gently create swirls through the two nut butters on top of the bars. Once your happy with how it looks (don't over mix!), place in the fridge to firm up over night or for at least four hours.
Slice bars in the tray; I used a 9*5 inch tray and created 12 nice sized squares.
Store in the fridge for up to two weeks in a seal tight container or in the freezer for up to one month.
Slice bars in to 12 bars.
{ 2 comments }