Comfort food at it's finest!!! Slow cooked beef short ribs with a lip smackingly good rich spicy thick chili sauce infused with raw cacao…heaven in a bowl! Topped off with smashed avocado and "cashew sour cream" or a dollop of Coyo!
I met one of the ladies who I consider to be one of my biggest fans just over a week ago while out doing a food tasting with work. She's made lots of recipes from the site and was actually whipping up one of my slow cooker meaty meals the following day for guests. So incredibly handy, foolproof and totally hassle free.
It's definitely the kind of food I've been craving lately! Focusing on protein and veg. is definitely an easy option, and when you can pick up a nice piece of good quality of steak or fish your on to a winner. With the dark cold evenings I tend of eat dinner a little earlier and just LOVE coming home to something already cooked. No chopping, no frying, no cleaning up, just reheat, sit, devour!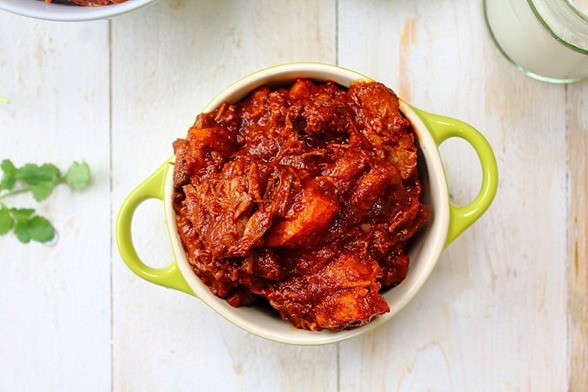 I promised her I'd have this recipe up soon as I knew it would be right up her street; I'm only about a few days late! I had hoped to get it up earlier in the week but decided to give you guys pie and Thanksgiving appropriate salad before the big feast.
For anyone sick of the sight of Turkey… just send it my way! Through together this chili, stir through any leftover veggies you might have on hand and get ready to be in rich deep chipotle chili heaven. Avocado and something creamy are a must to add to it's lusciousness and cool it down just a little. I'm quite the spice fan but I like being able to taste my food and keep the taste buds intact too.
I CAN'T WAIT for Christmas turkey and the leftovers…they went far too quickly for my liking last year. I became a bit of a turkey fan to say the least and having ordered and put down a deposit I'm most definitely putting my name on a whole leg and the wings; the best bits!
The leftovers reheat beautifully as you would expect and it is of course quite nice served cold…I'm opted for warmth unusually for me, the perfect way to take the chill out of my bones.
The meat is so incredibly tender, it literally falls off the bones. Gently pulled apart, or rather flaked, the fat having melted in to the sauce making it all the more sumptuous and satisfying.
What's your favourite meat to use a chili? If you're looking for other uses for short ribs my slow cooked Jerk ones are incredible served with fried plantains and a quick slaw!
Slow Cooker Beef Short Rib Chipotle Chili
Keywords: slow-cooker entree snack sauce soup/stew gluten-free grain free nut-free paleo soy-free beef chili
Ingredients
3 pounds or up to 1.5 kg bone-in beef short ribs
2 tbsp coconut oil
1 small yellow onion, diced
3 cloves garlic, minced
2 cans of crushed tomatoes
1½ cups (325ml) beef bone broth (I used homemade or you can use a good quality stock)
2-3 tbsp adobe chipotle chili powder to taste
2 – 3 squares/1 oz (28g) raw cacao paste or 90% dark chocolate
2 tsp cumin
1 tsp coriander
1 tsp oregano
1/2 tsp Pink Himilayan Rock Salt; to taste
1/2 tsp black pepper; to taste
1 cup roasted butternut squash or pumpkin to stir through
Coriander, Smashed Avocado and Coyo or homemade cashew cream to serve!
Instructions
Heat oil in pan over medium high heat.
Season ribs on both sides with a sprinkle of salt and pepper.
Place ribs in hot skillet and let sear for about 1 to 2 minutes on each side until lightly browned and crusted.
Remove ribs to slow cooker and add onions and garlic to pan.
Let cook another 2-3 minutes while stirring until they start to brown.
Add about ¼ cup (60ml) of the broth to the pan and use spatula to scrape off any remaining meat or crispy onion bits!
Add the onion, garlic and other contents of pan to slow cooker.
Add all remaining ingredients and stir to combine.
Cover and cook on low for 8-10 hours.
Remove ribs and shred meat from bones (should shred easily with a fork)…mine literally fell apart!
Discard bones.
You can return meat to the sauce at this stage or blend it a little using a hand blender or create an even smoother sauce using a high speed blender.
Return all ingredients to the slow cooker, leave to heat through a little or it might be at an ideal temperature for you at this stage. Stir through squash and season to taste.
Serve topped with avocado, cashew "sour cream" or plain dairy free yogurt and a sprinkling of fresh coriander.
Will keep well in the fridge for up to three days for freeze for up to one month in a seal tight container.
{ 1 comment }