Leftover rib eye forms the base for this super paleo surf and turf stack…complete with coconut shrimp, red cabbage pickle and a spicy chipotle mayo.
Ok so I'm only a little over a week late with this one…not too bad considering how all over the place I've been over the past 7 days!
I was let go from one of my three steady jobs, which funnily enough I wasn't particularly upset or overly worried about. The change in routine and need to work a little harder seeking out alternative work has caused a bit of disturbance but my doing my upmost not to get stressed about it. I really would LOVE to make this whole blogging thing a career. My passion for food and writing, health and nutrition, all of which compliment and depend upon each other, really need to be put to good use.
"Woah is me" over… I had intended to share the super simple recipe for these coconut baked shrimp last week but I was a little distracted; brownies took precedence with my mind on a one track chocolate train though in reality it was more of an egg and avocado on repeat week!
Not one piece of that rib eye was going to go to waste…especially the most marbled of bits. Thick ripples of fat, medium rare beef…I ate a fair bit of it straight from the fridge, not far from the door, feeling like a cave woman post strong woman class…ravenous!
In case your wondering and someone is bound to ask or at least have the desire to ask, strongman class (we've coined it strong woman because women usually outnumber men by about 8:1!) is a strength and endurance class incorporating everything from tyre flips to prowler pushes, sled drags and plenty of burpees on the outdoor pitches in all weathers among other things. I love it…I never feel more alive than when we're finished, late in the evening, with a bright pink glow in my cheeks usually looking like I've been dragged through a hedge backward, smiling nonetheless!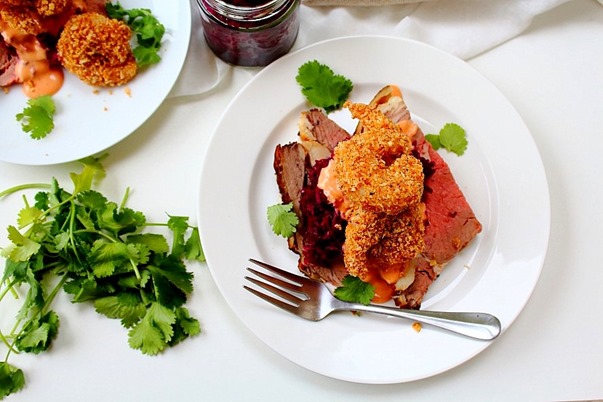 I digress…rather than just eating the big pile of leftover roast straight from the fridge I decided to use it as an awesome base for this super simple paleo surf n' turf. No grilled baby shrimp here…big jumbo shrimp (actually prawns but I'll call them shrimp as not to confuse this higgledy piggledy post anymore) coated in a toasted almond and coconut spiced crumb, baked for 10 minutes in a hot oven and they're good to go.
Tender juicy shrimp and beef…they just go so magically well together. Combined with the red cabbage and beet pickle and the spicy chipotle mayo, each mouthful pretty much exploded with flavour in the mouth. Of course I urge you to make the stack as you see it before you; if you don't have leftover roast at hand make the perfect crusted steak and sit those incredibly addicting shrimp on top.
Failing that just make the shrimp…I eat a bowlful, perhaps a bigger one, just as they are, chipotle mayo for dunking of course; they're too easy not to give them a whirl!
What's your favourite steak/beef topping or accompaniment? I'm quite partial to a tower of onion rings!
Baked Paleo Toasted Coconut Shrimp
Prep Time: 5 minutes
Cook Time: 15 minutes
Keywords: bake entree breakfast gluten-free grain free low-carb paleo soy-free sugar-free almond flour almonds coconut shrimp
Ingredients (Serves 1-2)
1/2 lb (224g) large shrimp (7-8)
1 organic egg
1/4 cup (25g) tapioca flour
1/4 cup (20g) unsweetened desiccated coconut
1/4 cup (30g) ground almonds
1/4 tsp paprika
1/4 tsp chili powder
1/4 tsp onion powder
1/4 tsp garlic powder
1/4 tsp Pink Himilayan Rock Salt
1/4 tsp black pepper
1/2 tbsp coconut oil melted
To Serve
Instructions
Preheat oven to 200C (400F).
Place ground almonds and coconut in a dry pan over a medium heat and toast for 3-5 minutes, tossing to ensure it doesn't burn. Set to one side.
Toss shrimp/prawns in tapioca starch. Whisk your egg, dunk the prawns in and toss to coat.
Mix together all spices, garlic powder and onion powder, salt and pepper with toasted coconut and almond. Roll each shrimp in the mix.
Place on a parchment paper lined baking tray, drizzle with melted coconut oil and bake in the preheated oven for 8 – 10 minutes; depending on the size of the shrimp!
Mix together chipotle paste and mayo!
Layer up…beef, pickle, mayo, shrimp…sprinkle with some fresh coriander to serve.
{ 0 comments }