The best ice cream I've ever tasted..let alone made. Super smooth creamy…like velvet with crunchy toasted pecans throughout.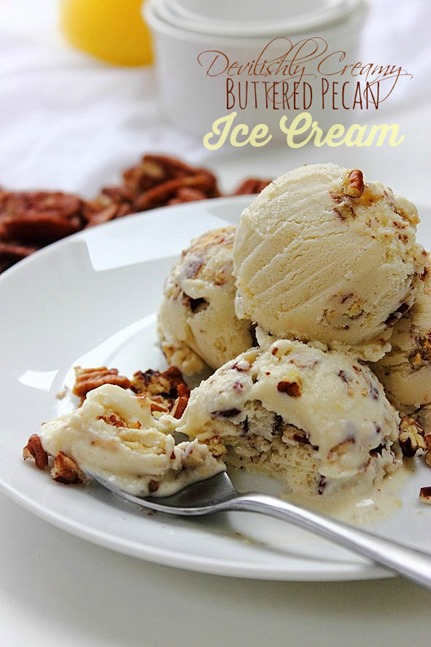 So I had a loan of an ice cream maker for 3 days…and I made three different ice creams times three. Three batches of each, one for my good self, and one of each for my dairy free ice cream obsessed/adoring friends/fans!
It wasn't just any old ice cream maker. Nope it was the super duper hassle free kind that you literally just plug in and go. Though having made quite a few batches in the short time I had it I learned two things..leave it on for a good 10 minutes before putting in your mix, and less is more; as in filling the bowl about 2/3 – 3/4 full is optimum to achieve thick softserve consistency.
I had thought it couldn't get much better than the almond butter ice cream and the previous pecan and coconut laced, subsequently s'more sandwiched kind….but this one trumps the lot! I went down a whole new root and decided to play around with egg yolks and a little teeny bit of gelatine. The end result was positively heavenly.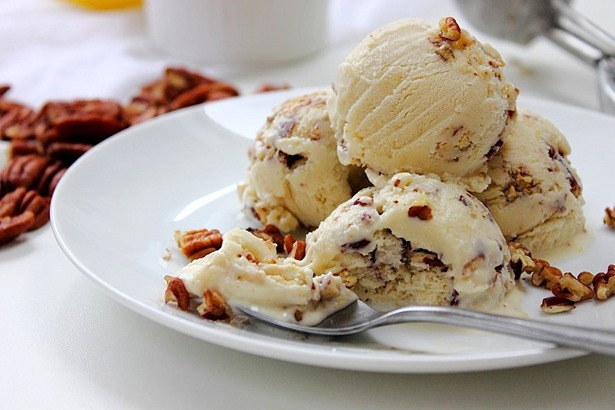 There is no going back. I'm a custard based ice cream mix convert. The only thing that will stop me being lack of egg yolks…I might just have to start making meringue or a whole load of macaroons to ensure all the egg whites don't go to waste! Any other ideas/suggestions send them my way!
The joy of the egg yolk…they act as the emulsifier, to "glue" all the ingredients together and give the ice cream its smoothness. Egg yolks also give ice cream its rich flavour and deep colour. The creaminess they bestowed is to date unrivalled and I've been making a new flavour every week for the best part of two months at this stage!
Why the gelatin? It acts as a stabiliser preventing ice crystals from forming improving the texture of the ice cream.
I used my own clarified butter which my non dairy tolerating self has no problem with…for added creaminess, a flavour punch to compliment those pecans and improve the texture even more so..the more fat the better as it has difficulty freezing making for a much more scoop able ice cream. My impatient self has trouble waiting the 15 –20 minutes for the usual non dairy ice cream once it's frozen solid which usually results in me putting in the microwave or hacking it with a sharp knife…neither is ideal.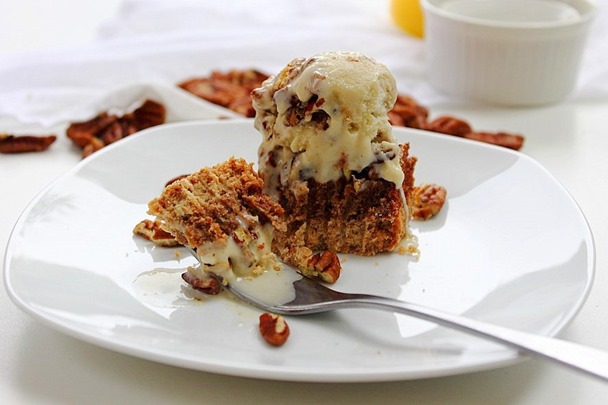 A big mighty bowlful all on it's own could possibly be described as the last dessert I'd demand before I die…though if I was feeling particularly exacting I might just have to have a pecan pie square crumbled over the top!
But why wait until your last dessert order…I'll definitely be whipping up another batch of this one, hopefully with the aid of an ice cream maker should I given the opportunity to have a loan of it again or until I can one day afford one myself (reminder to self…do the lotto this week or at least get a little ice cream machine savings fund on the go!)
Buttered Pecan Ice Cream
Prep Time: 4 hours + 40 minutes
Keywords: blender dessert snack gluten-free grain free low-carb paleo soy-free coconut milk ghee pecan nuts
Ingredients (Approx. 8 servings)
2 cans (800ml/ 27oz) full fat coconut milk
1 tsp gelatin + 1/4 cup (60ml) heated full fat coconut milk
4 egg yolks (from four large organic eggs)
2/3 cup (150g) ghee (clarified butter) – I make my own but this one is a good brand
1/3 cup (110g) raw honey
1 tbsp dark rum
2 tsp vanilla extract
3/4 cup (75g) pecans
Instructions
Heat the coconut milk for the gelatin over a medium heat until just almost boiling. Place in a bowl or jug and sprinkle over the gelatin. Set aside.
Place coconut milk and ghee in large pot; blend using a hand blender. Heat over a medium to low heat until just below boiling point, stirring to ensure it doesn't burn.
Add the gelatin to the pot, blend once more and leave to simmer for a couple of minutes.
Whisk together egg yolks, vanilla extract, rum and honey.
Slowly pour the coconut milk in to the egg yolk mixture, about 60ml (1/4 cup) at a time, whisking as you do so; I used an electric whisk. Continue until all the milk has been incorporated. Pour in a jug or large bowl, allow to cool at room temperature before placing in the fridge to cool for at least 4 hours or overnight.
Meanwhile…
Preheat oven to 180C (350F). Place pecans in to the oven to toast on a non stick or lined baking tray for 12-15 minutes. Keep an eye on them and toss to ensure they don't burn.
Roughly chop the pecans once cool.
Freeze the bowl of your ice cream maker or switch it on and set it up according to the manufacturers instructions.
Pour mix in to the machine and churn until soft serve consistency. The one I had on lend took about 35 minutes. Stir in pecans and place in to a loaf tin or shallow dish of choice. Cover the top with cling film ensuring it touches the surface of the ice cream. Place in to the freezer to set for a further 4 hours or overnight or until desired consistency.
Leave out at room temperature for 5-10 minutes before scooping.
{ 0 comments }