A trio of nut bounds with drippy smooth nut butter, dreamy coconut oil and luscious raw cacao butter. A crunchy satisfying grain free treat with the magical unique naturally sweet taste of matcha, also bestowing quite the funky beautiful bright green colour to this alluring bars!
Sweetened with nothing more than dates, these bars are a perfect snack any time of the day that satisfies on all counts, curbing your chocolate cravings with an intense hit of pure raw cacao, its bitterness softened by the lightly sweet bar it caresses. Can you tell just how much I love these bars?
Just like the almond butter power bars I made use of Meridian Foods all natural nut butter…and just like their predecessors I kept them all to myself!!!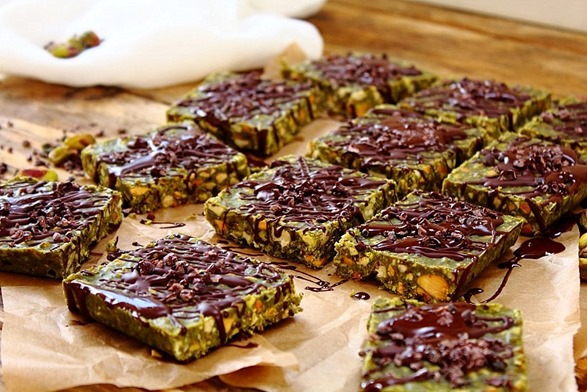 These bars actually came to fruition out of a desire to make optimum use of the wonderful products sent to me from Iswari! I went with the Organic Matcha, Organic Raw Cacao Butter and Organic Raw Cacao Nibs. Three of my favourite superfoods. (I also whipped up another batch of Matcha Green Tea Fat Bomb Fudge…because that stuff is pretty show stopping!)
The cacao butter binds the beautiful roasted nuts as well as adding a beautiful mellow buttery undertone while the cacao nibs add a wonderful natural crunch and bitterness which contrasts perfectly with the naturally sweet Matcha. These are pretty much my dream nut bar come true. I forked out for some de-shelled raw pistachios and roasted them up with cashews and pecans before blitzing them to a coarse crumb. Their is nothing that quite compares to the aroma of just out the oven roasted nuts…I pre-empted my inability to resist and roasted up some extras to nibble on while I whipped up the bars!
It was quite the treat to be able to make use of some of my favourite products which in all honesty I do generally purchase regularly. I truly love the Iswari Cacao Butter due to the fact that it comes in handy little discs, like chocolate buttons, which require very little if any chopping before melting with much more ease than that which comes in a block. Also a cacao butter lover I have been known to munch on a couple of pieces just as they are straight from the pack.
Bars that are loaded with antioxidants from the wonderful triple whammy hit of raw cacao, magnesium which most notably for me aids in muscle recovery, as well as giving a natural energy boost and sense of mental clarity on a foggy morning or afternoon. I love having one of these bars before training in the morning and equally crushed and crumbled over a bowl of coconut yogurt before bedtime. Starting and ending the day on a foodie high note!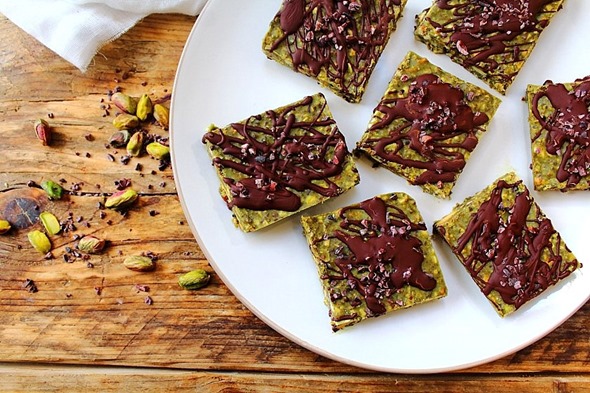 What's your favourite superfood product to add to your snacks?
*This is not a sponsored post though all products were sent to me free of charge from @Iswari
No Bake Matcha Nutola Bars
Prep Time: 10 minutes
Cook Time: 15 minutes (for roasting the n
Keywords: roast snack breakfast gluten-free grain free low-carb low-sodium paleo soy-free sugar-free vegetarian vegan cacao butter cashew butter cacao nibs
Ingredients (8 large or 12 smaller bars)
1 cup (100g) roasted unsalted pistachios
1/2 cup (55g) roasted unsalted cashew nuts
1/2 cup (55g) roasted pecans
1/2 cup (55g) ground flax seed
1/4 cup (60g) melted cacao butter
3 tbsp raw cacao nibs
1/4 cup (60g) roast cashew butter
1/3 cup (80g) melted coconut oil
1/2 cup (90g) Medjool dates blended to a paste
2 tbsp Matcha Green Tea
1 tsp vanilla extract
Topping
Instructions
*Dry roast nuts in a preheated oven at 180C (350F) for 15 minutes and allow to cool before making the bars!
Melt cacao butter and coconut in a bain marie or in the microwave in 30 second intervals!
Place nuts in to a food processor and pulse 4 – 5 times until coarsely chopped.
Remove and blend together dates, melted cacao butter, coconut oil and cashew butter until you have a smooth paste. Whizz in vanilla extract and matcha green tea powder.
Add nuts, cacao nibs and ground flax to a bowl.
Pour wet green mix over the dry, stir well to combine. Line a 5 * 9 inch or 8 * 8 inch tray with parchment paper. Pour mixture in to the dish and spread evenly using the back of a spoon.
Place in the fridge to set for a couple of hours or overnight; speed up the processor by placing them in the freezer.
Slice bars in to 8 -12 pieces.
Melt cacao paste and coconut oil, drizzle a little over each bar and sprinkle with cacao nibs. Store bars in the fridge for up to two weeks or freezer for up to one month!
{ 0 comments }