Fish without the chips…baked to perfection. Beautiful flaky cod with a crispy seriously tasty coconut and almond crumb!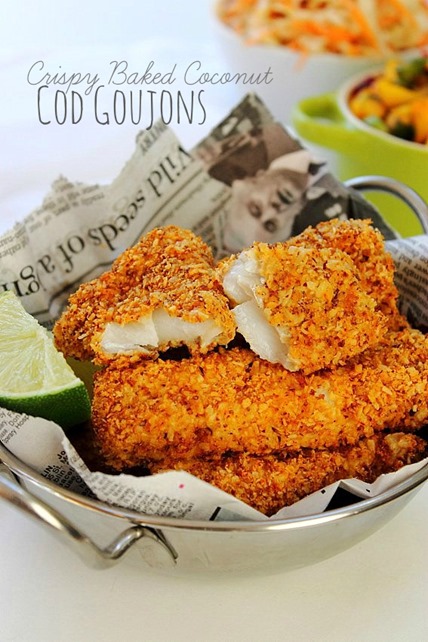 Succulent mighty cod goujons…because they're far too tasty to be merely be described as fingers! Three different batches, each one better than the previous, who knows I may make them a fourth time though I doubt I'd make any adjustments.
This batch was perfect! The coating was just thick enough, loaded with flavour and delightfully crispy. The cod flaky and moist within, making for a truly healthy and delicious take on the classic fish finger…or fish and chips without the latter!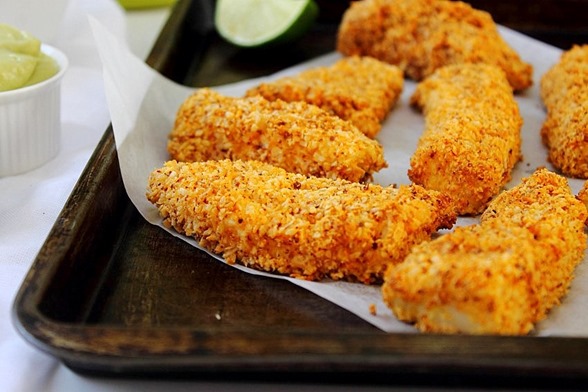 I went with my favourite simple slaw and some fresh summer salsa on the side (this time sans the strawberries, with some juice dripping nectarines in their place!).
You can literally have this on the table in 20 minutes flat…simple, fresh, healthy and delicious. I ended up eating the whole batch but there is a hefty amount of cod so the recipe would quite easily feed two with maybe a side of swede fries just to be sure to be sure!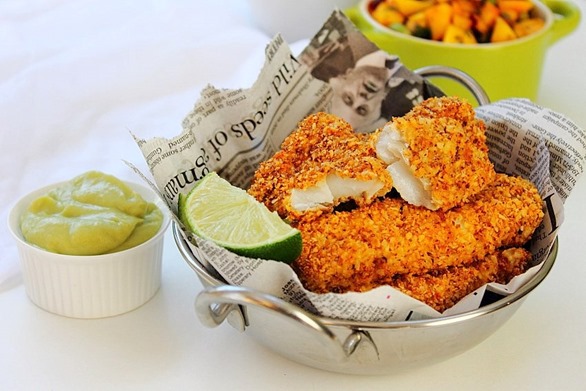 Fish fingers were a staple in my house growing up…the Friday dinner..baked beans or spaghetti hoops and oven fries… To this day there is always a box (or three!) in my mums freezer. As far as processed foods go they're no the worst thing in the world (just going on the brands we have here in Ireland)…that said I wouldn't touch them myself, especially when it's so easy to make you're own!
Aside from the fact that you get about 5 times more fish in each one and they're a zillion times tastier! They're are best enjoyed fresh but leftovers are good for flaking over a salad…mingling in all the toasty crumbly bits.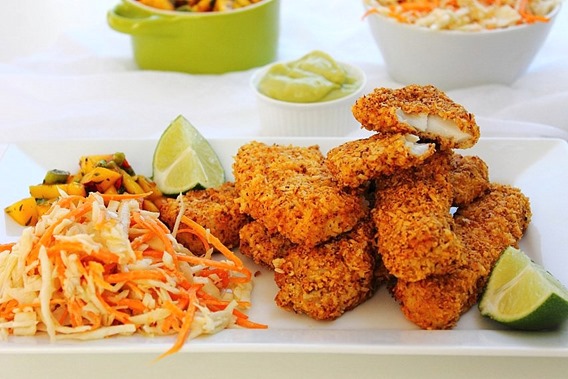 I've been on more of fish and salad kick this week. We're having a bit of heat wave (by Irish standards) so the less time the oven needs to be on or I need to stand near a cooker the better! The though I will be getting my grilling action on tomorrow for some more of that chicken or a new variation of it perhaps!
What's your favourite coating for chicken or fish? These chicken goujons definitely need to feature in my meal plan for next week! So good!
Cod Goujons
Prep Time: 10 minutes
Cook Time: 10 minutes
Keywords: bake entree side gluten-free grain free low-carb low-sodium paleo soy-free sugar-free coconut almond meal cod
Ingredients (Serves 1 -2)
Cod Goujons
300g (10.5oz) fresh cod (or haddock, hake or any firm white fish), skinned, boned and sliced in thick long fingers
1 large organic egg
40g (1/3 cup) almond meal
40g (1/2 cup) desiccated/shredded coconut
1/2 tsp garlic powder
1/4 tsp paprika
1/4 tsp cumin
1/4 tsp Himilayan Rock Salt
1/4 tsp freshly ground black pepper
To Serve
Instructions
Preheat oven to 200C (400F).
Whisk egg in one bowl.
Blitz coating ingredients in a mini food processor to grind down the coconut to nearer the consistency of the almond meal. Place in to a separate bowl.
Dip cod or fish of choice pieces in the egg coating fully. Allow excess to drip off before coating in the dry mix.
Press pieces of fish in to the mix and roll to coat.
Place coated pieces in a single layer on a baking tray lined with parchment paper. Drizzle with a little coconut oil (melted)..I used about 1/2 tbsp, and bake in the preheated oven for 5 minutes. Gently turn over and bake for 5 minutes more.
Serve with salsa, slaw and come avocado cream if desired!
{ 5 comments }