Super rich dark chocolate fudgy brownies with a monumental amount of chocolate chips and a chocolate truffle topping. DIVINE!
These are dessert brownies…some slightly healthier versions I would consider to be snack material. If you make these with stevia you can keep them pretty low carb and actually all round they're pretty darn healthy, they just don't taste it!
I like these the best heated for just about 15-20 seconds served with a scoop of Coyo or dairy free ice cream…if only I had my own darn ice cream machine! I will be delivering you a dairy free soft serve alternative that's super creamy, can be scooped from semi frozen or served immediately, depending on your preference and it's also fruit free so stayed tuned! Hint hint…it will contain Coyo!
I've been on a bit of dessert recipe kick of late. If you head on over to my Instagram it tells a different story altogether. I have such a savoury tooth but I've a couple of friends that request a sweet treat creation once a week…hence the previous peanut butter chewy chocolate chunk fudge squares.
Top of my own agenda is something for the kiddies going back to school. Not that I have any of my own but my niece and nephew sure wouldn't mind a lunch box friendly, aka nut and chocolate free treat. I have plans even if they do end up running a bit late, sure they'll have the whole school year to enjoy them.
But back to brownies…ok so  they're definitely not chocolate free but you could make a nut free version using Meridian Foods sunflower seed butter in place of the almond butter and you could sub out the ground almonds for ground sunflower seeds!
Just as they are they are pretty darn epic. They work with almond, cashew, hazelnut or even peanut butter. Whatever your preference. The hazelnut and peanut butters are probably the most distinct flavours, so if you prefer the chocolate to dominate stick with cashew or almond.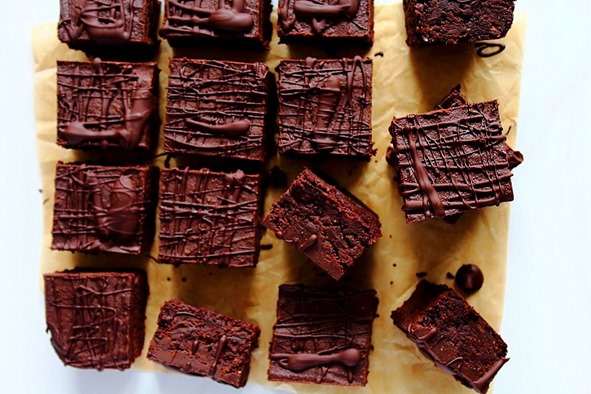 The chocolate truffle topping is so incredibly easy to make and really takes these brownies to a whole other level of glorious indulgent deliciousness. Once given a little heat the truffle topping and chocolate chunks start to ooze, the brownie itself becomes slightly more luscious and all over gooey. HIGHLY recommended!
Keep these dairy free by using coconut oil; my preferred option is to use ghee to give them that rich buttery flavour.
What's your favourite way to switch up the usual run of the mil brownie? Any interesting toppings or add ins? My mint matcha iced brownies and chocolate coconut topped brownies are two of my favourites. NOTE to self…must make pecan turtle brownies SOON!
Fudgy Paleo Chocolate Truffle Brownies
by Michelle Hunt
Prep Time: 10 minutes
Cook Time: 20 minutes
Keywords: bake dessert snack gluten-free grain free low-sodium paleo soy-free vegetarian coconut oil cocoa powder chocolate chips
Ingredients (16 brownies)
Truffle topping
Instructions
To make the brownies. Line an 8×8 baking dish with parchment paper or foil, letting the edges over hang from the pan so you can easily lift the brownies out of the pan or I use a loose bottomed tray!
Preheat the oven to (160C (320F). Add the butter/ghee or coconut oil and the 56g of chocolate chips to a medium size mixing bowl that is microwave safe. Microwave for 30-second intervals, stirring after each interval until melted and smooth. This takes me about 1 minute and 30 seconds.To the melted chocolate mixture add the almond butter, sugar or stevia and instant coffee, whisking until completely combined. Add the vanilla and eggs and whisk until smooth.
Sift the cocoa powder. Stir the cocoa powder and ground almonds into the egg mixture and mix until smooth and just combined, try not to over mix the batter. It will be thick. Stir in the remaining 100g (4oz) of chocolate chips. Pour the batter into the prepared pan, spread with the back of a spoon and bake for 25-30 minutes, until the brownies are set on top. Do not over bake, if anything under bake.
Meanwhile make the truffle topping. Add 85g (3oz) of chocolate chips and the coconut milk to a microwave safe bowl. Microwave the chocolate and coconut milk on 30-second intervals, stirring after each interval until melted and smooth. This takes me about 1 minute. Stir in the almond butter until smooth.
Remove the brownies from the oven and let the brownies cool 5 minutes and then lift them out of the pan. Pour the chocolate truffle/ganache right over the brownies and smooth it out until it reaches the edge.
Place n the fridge to set for one hour.
Slice the brownies into sixteen. Melt the remaining 56g (2oz) of chocolate chips and drizzle over the sliced brownies. I prefer to slice them first as otherwise, the chocolate drizzle might crack.
These are best enjoyed at room temperature. They will keep for up to one week in a seal tight container at room temperature out of direct heat and sunlight. You can also freeze them for up to one month.
Adapted from Half Baked Harvest
{ 0 comments }