Slow roast lamb shoulder…a.k.a the best piece of meat I've ever cooked. Soft tender juicy meat that just falls off the bone. A quick and easy pan juice gravy, roasted veggies and you have yourself a winning meal with minimal effort.
Not that I'd mind if it required a little more effort! I've mentioned before that meat wasn't my favourite thing in the world growing up. I'd take it in small doses but more often than not leave it…doing the a little bit of the obligatory playing around with on my plate. At least that's the way I remember it.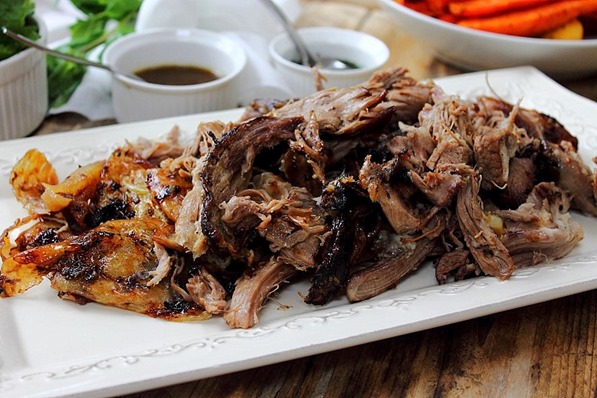 Lamb was the meat that terrified me the most. The thought of eating lamb just didn't appeal, the smell of it cooking filled me with dread and yet now…knowing I had second this lamb to keep me going for a few days running it was like all my Christmases had come at once!
It totally knocked my socks off. I've seen people carving or shredding meat picking as they go, my mother being one, my niece being a fan of by standing for a pre dinner nibble. I just never really got it.
Yes I now enjoy sitting down to a meal with meat in it, that centres around it  or quite literally is built upon it…but it didn't measure on my "simply irresistible" food scale! Now I GET IT! As I pulled and shredded the lamb from the bone I found it EXTREMELY difficult not just keep munching away. The succulent meat beckoned. I literally had to have a "word with myself"…I had roast dinner, curry, stew and salad plans for the "leftovers" so there actually needed to be some!
I don't think I can possibly put in to words how head over heels crazy in love I am with lamb shoulder…I had to hold myself back from buying another one the following week…5 days of lamb all to ones self I figured I should switch it up a little bit but two weeks later and I have another in the oven as I type! Perfect time to drool over what has been knowing there's more on the way soon!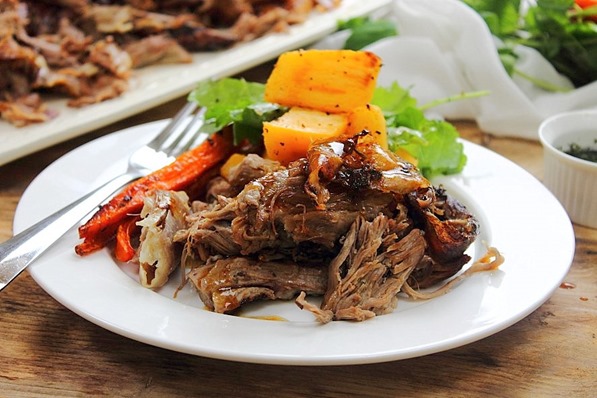 The first round, fresh from the oven was served up with roasted swede and carrots, some baby kale and some pan juice gravy.
Gravy growing up was from a packet…how or why on earth would you let those lamb juices go to waste! An incredibly simply sauce that makes for one mighty fine roast dinner…that I had for breakfast. That's how much this girl has changed! "#paleo" is like a putting a full stop on a sentence when it comes to tweets these days!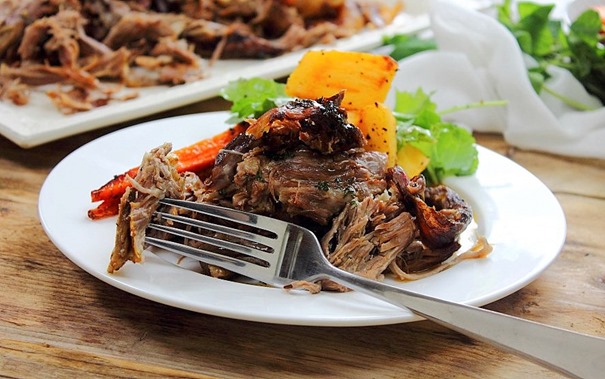 What's your favourite cut of meat to roast? I CANNOT wait for Christmas this year! Bring on the big mighty fine organic turkey!
Simple Roast Lamb Shoulder
Prep Time: 30 minutes
Cook Time: 4 hour 15 minutes
Keywords: roast entree gluten-free grain free low-carb nut-free soy-free sugar-free garlic lamb
Ingredients (Serves 6)
For the Lamb
1 large bunch fresh rosemary/thyme or both!
1.5kg quality shoulder of lamb
Olive oil
Himilayan Rock Salt
Freshly ground black pepper
1 bulb garlic, unpeeled, broken into cloves
For the Gravy
1/2 tbsp tapioca starch/arrowroot
375ml (1.5 cups) organic chicken or vegetable stock, hot
2 tablespoons red wine vinegar
To serve
Wilted steamed or sauted greens of choice
Roasted swede and carrot (parboil for 10 minutes and roast for 30 minutes in the lamb juices as the lamb finishes cooking!)
Instructions
Preheat your oven to full whack. Slash the fat side of the lamb all over with a sharp knife. Lay half the sprigs of rosemary and half the garlic cloves on the bottom of a high-sided roasting tray, rub the lamb all over with olive oil and season with salt and pepper. Place it in the tray on top of the rosemary and garlic, and put the rest of the rosemary/thyme and garlic on top of the lamb.
Pour 1/2 cup (125ml) water in to the bottom of the tray.
Tightly cover the tray with tinfoil and place in the oven. Turn the oven down immediately to 160C (325F) and cook for 3.5 hours – it's done if you can pull the meat apart easily with two forks.
Remove foil, turn the oven up to 200C and roast uncovered for 15 -20 minutes more. If you're cooking roast carrots and swede place in the tray at this point. The water should have evaporated with only pan juices remaining! Alternatively roast in a separate tray with ghee/coconut/olive oil. Remove lamb once crisp and brown on the outside. Leave to rest for 10 minutes. Allow the veggies to cook for 10-15 minutes longer.
Place lamb in to a large dish or on to a board and pull apart with two forks!
Place roasting tray on to the stove, remove cloves of garlic and any large pieces of rosemary/thyme.
Add the stock, stirring and scraping all the sticky goodness off the bottom of the tray.
Mix together tapioca flour with water, whisk in to the sauce and leave to simmer for 3-5 minutes. Whisk in red wine vinegar and season to taste. Pour in to a serving jug.
Serve lamb with roasted veggies, wilted or sauteed greens if desired and a drizzle of fresh gravy!
{ 0 comments }