Chewy cookies, crispy on the outside, loaded with goodness! The perfect lunchbox filler…the grain free cookie you need in your life!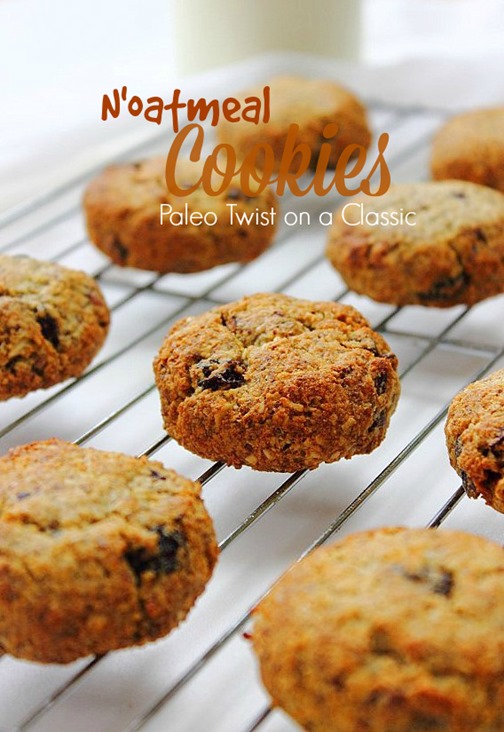 Admittedly I'm more of a brownie/cake/creamy dessert fan…but occasionally I get a longing for a cookie. They have a place…my chosen one is with a bowl of ice cream or using them to sandwich a scoop of pecan coconut swirl!
Up to this point my all time favourite cookies were my turtle cookies…also grain free, soft, chewy and altogether wonderful crumbled over a bowl of vanilla. In Ireland cookies (or rather biscuits) come with the standard cup of tea or coffee…rarely will you be offered one without the other. I've never been much of a fan of the combination. I'd much rather make a meal of it dessert style.
These cookies have changed that! Wholesome, naturally sweetened with dates, truly satisfying but at the same time moreish. Small enough to warrant eating them two at a time…healthy enough to encourage it!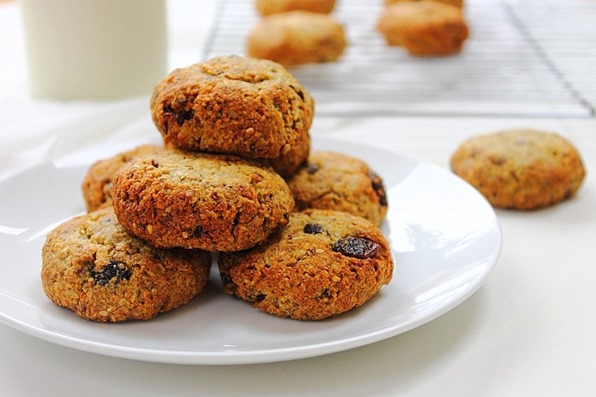 I'm head over heels in love with them. Super duper easy to make…aside from blending the dates and having to clean the food processor there's little to no hardship involved.
I can't take credit for the recipe…my skills lie more in the raw dessert category and dairy free ice cream flavour creation station (lots more to come soon!). I first spotted the recipe over on Sonia's site and then checked out the original recipe over on the Primal Palate site.
I went with the dates sweetened option, made half a batch (in hindsight I should have a made a mighty load!)…and rather than a combination of ghee and coconut oil stuck with the latter.
Next time I might slide in a little dairy seen as I'm now making my own clarified butter! I was a little intimated about the process of removing the milk solids and frankly just fearful of not doing it properly. I seem to have no problem tolerating ghee but my tummy is not a fan of any other dairy, nor is my skin…and I'm more than willing to pass on the cheese and forgo the dairy ice cream for clear skin!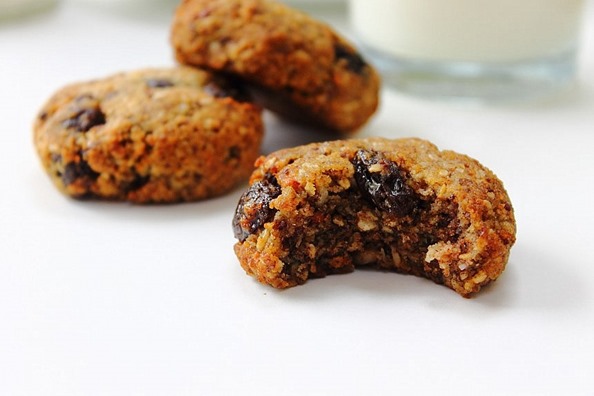 These little cookies would make for a great lunch box filler with the kiddies now back at school or something to have for them to munch on while they get through their homework..a healthy snack to fuel their little minds or a way to entice them to get it done!
Or just keep them all for yourself to pair with your sneaky 10 minutes to yourself morning or midday cup of coffee.
What's your favourite type of cookie..super sweet or wholesome and nourishing?
N'Oatmeal Cookies
Prep Time: 10 minutes
Cook Time: 9 – 11 minutes
Keywords: bake dessert snack gluten-free grain free paleo soy-free vegetarian coconut oil dates flax seeds sunflower seeds
Ingredients (12- 15 cookies)
1 cup (100g) almond meal (not flour)
1/4 cup (52g) flax seed meal
1/4 cup (20g) unsweetened desiccated coconut
1 tsp cinnamon
1/2 tsp baking soda
1/4 tsp Himilayan Rock Salt
1/4 cup (45g) Medjool dates
1 large organic egg
1/2 tsp vanilla extract
1/4 cup (55g) coconut oil
1/4 cup (25g) walnuts roughly chopped
1/4 cup (30g) sunflower seeds
1 heaped tbsp cacao nibs
1/4 cup (35g) raisins
Instructions
Preheat oven to 180C (350F).
Mix together all dry ingredients.
Blend together egg, dates, melted coconut oil and vanilla extract.
Add wet to dry and stir well to combine.
Using your hands create 12- 15 balls. Shape to desired width and thickness as they won't change too much when baked. They will puff a little and spread slightly but not noticeably!
Bake for 9-11 minutes. Allow to cool on the tray for 10 minutes. Cool fully and store in a seal tight container for up to 5 days in the fridge or freeze for up to one month.
{ 0 comments }