Because all salads taste more awesome with homemade paleo friendly mayo…
Shredded leftover chicken thigh meat, crisp pancetta, luscious ripe super green avocado, a whole load of mayo, a little mustard for a hint of a kick, olives, pecans and cool cucumber to freshen the whole thing up.
I love a good salad…but when I refer to a salad I don't necessarily think green leaves. More often than not a few end up being included but they aren't usually the inspiration behind the final concoction…lacinato kale being the exception on occasion!
I love a good mix up of flavours and textures, plenty of fat, a good amount of protein and something from the veggie world to balance the whole thing out.
I picked up some incredible avocados last weekend and wanted to make the most of them. Have a one with the pit removed filled with a dollop of mayo or almond butter is my go to, a little crisp bacon if I have any on hand or a sprinkling of nuts for a little crunch. These ones deserved a little showcasing! Just look at the mound of beautiful bright buttery green chunks ready to get mingling…totally irresistible!
I had two cooked chicken thighs sitting in the fridge, half a pack of pancetta and a fresh jar of mayo sitting pretty…salad o'clock…the perfect Sunday morning breakfast! Pecans are still my nut of choice at the moment, I just CAN'T get enough of them! A little sweeter than a walnut, softer on the palate and less harsh on the jaw!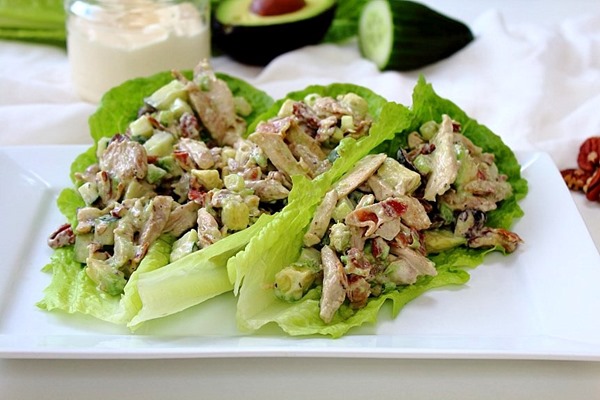 I was tempted to add an egg. I was glad I didn't. The mix was just perfect as it was and sat beautifully in some crisp romaine lettuce cups. Large long sturdy leaves, perfectly pick-up-able. Just the way I like them!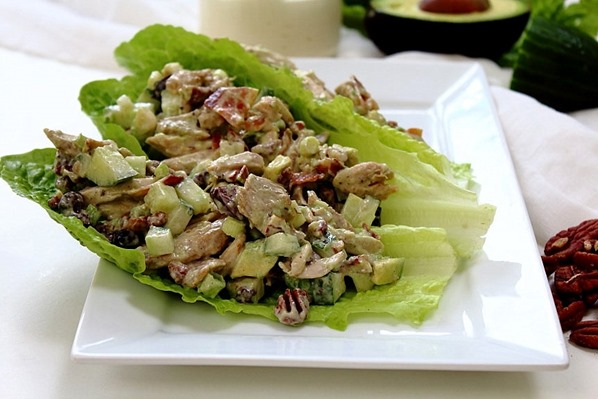 That said it is just as appealing straight from the bowl…fork in hand it's ripe for digging right in. The perfect "multi-tasking" friendly meal…a.k.a catching up on emails, blog reading and photo editing, more often than not just before I leg it out the door to work.
Just because it's the summer is over doesn't mean salads need or should be forgotten about until next year. I just won't have it. I'm happy enough to continue to eat cold food once I have a warm drink within near reach.
What's your favourite simple salad mix?
Avocado Bacon Chicken Salad
Prep Time: 5 minutes
Cook Time: 5 minutes
Keywords: saute fry breakfast entree salad gluten-free grain free low-carb paleo soy-free sugar-free avocado bacon chicken thighs cucumber
Ingredients (Serves 1)
2 slices of pancetta/crispy bacon
2 cooked chicken thighs (skin removed, meat shredded)
3 tbsp paleo mayo
1 tsp Dijon mustard
1/2 a large ripe (80g approx.) preferably Haas avocado
2 spring onions finely chopped
1 tbsp kalamata olives roughly chopped
1/3 of a medium cucumber diced
1/4 cup (30g) pecan nuts toasted and roughly chopped
3-4 Romaine Lettuce leaves for serving (or large sturdy lettuce leaves of choice!)
1/8 tsp Himilayan rock salt and black pepper to taste
Instructions
Mix together mayo, mustard, salt and pepper and set to one side.
Fry bacon or pancetta in a pan over a medium heat; 2-3 minutes per side. Remove and set aside lying flat to crisp up further.
Add leftover shredded chicken to the same pan and brown in the remaining bacon fat for a couple of minutes. Set to one side to cool.
Once the bacon and chicken are cool diced bacon and mix together all salad ingredients. Season to taste. Dive head first in to the bowl or serve up in crispy lettuce leaves.
{ 0 comments }